What's New In WordPress 5.9 Miscellaneous Stuff
What's New In WordPress 5.9 Miscellaneous Stuff will cover several items I have not yet covered in previous posts in the mini-series.
Here is a video version (pretty much) of this post:
How do I use the Customizer with a block-based theme active on my WordPress site?
One of the miscellaneous items I want to cover in this post is the workaround you can use to activate and use the Customizer while still having a block-based theme as your active theme.
Open a tab in your browser and paste or type your domain name slash WP dash admin slash customize dot PHP. (https://yourdomainname.com/wp-admin/customize.php)
And you'll end up with the customizer tools alongside your block-based theme.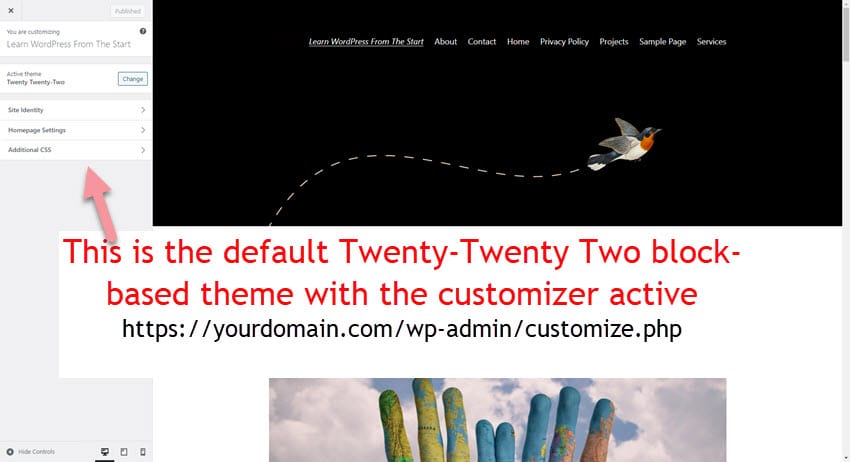 In this case, I have the twenty-twenty-two default WordPress theme, which is the block-based theme, not a hybrid. This is more of a gimmick than an actual workaround because you are super limited in what you can customize.
You can see what I mean when comparing that with the Customizer and a non-block-based theme.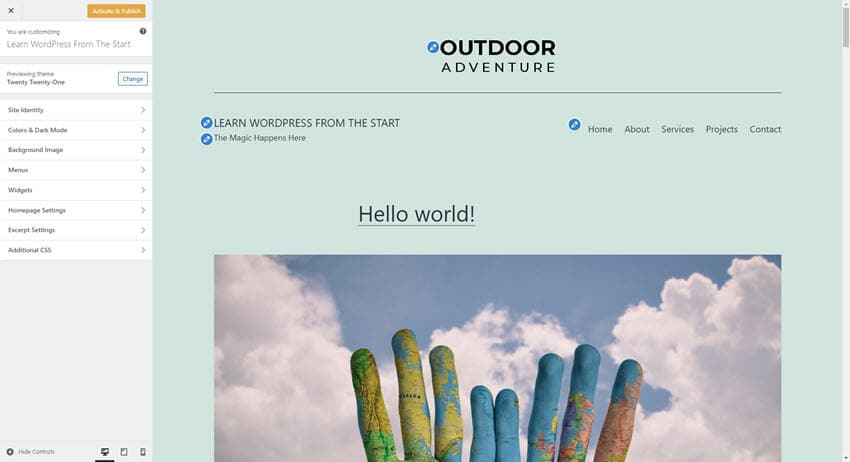 The gallery block has some significant upgrades with WordPress 5.9
The gallery block has some major improvements. It now gives you more editing control of the images as well as the gallery block itself. For example, with the WordPress 5.9 Gallery block, we have access to the block settings for the gallery and the individual images themselves. Whereas prior to WordPress version 5.9, we only had editing options for the gallery block and not the images within the Gallery block. For example, if we selected an image, we were very limited to the amount of available editing. And now we have many more options open to us by editing the individual images. Just like you can with an individual image block while still within the gallery block.
Another new item in WordPress 5.9 is the URL preview.
Another one of those miscellaneous items in version 5.9 is that you can now click on a link in the editor window and preview the destination URL whenever you create a link. And when we just click on it one time, our preview is displayed. In this example, I created a clickable link to Google.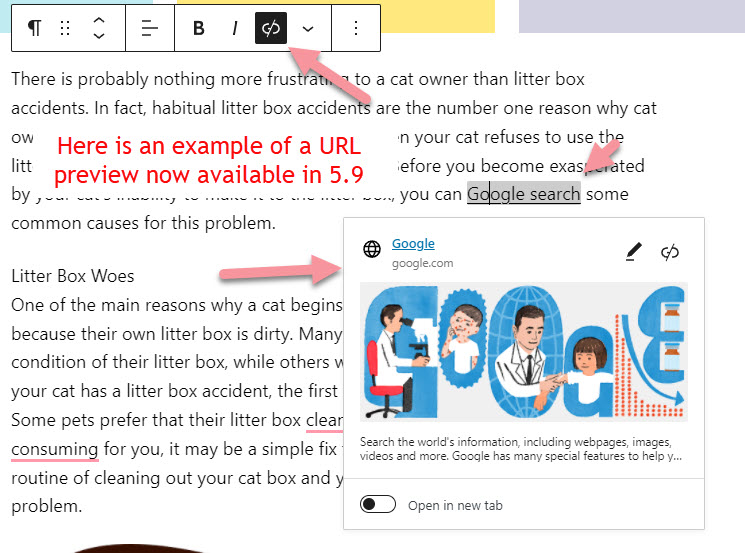 Choose your language on the login screen is also new.
This new feature in version 5.9 allows anyone logging into your site to switch to their language on the password reset, registration, and login screens.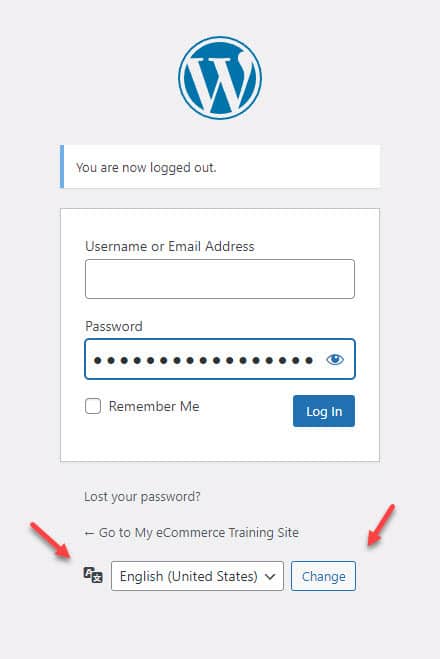 However, for this to work, the site administrator must first install those languages in the dropdown.
This is super easy by going to the language selector in the admin Settings > General tab.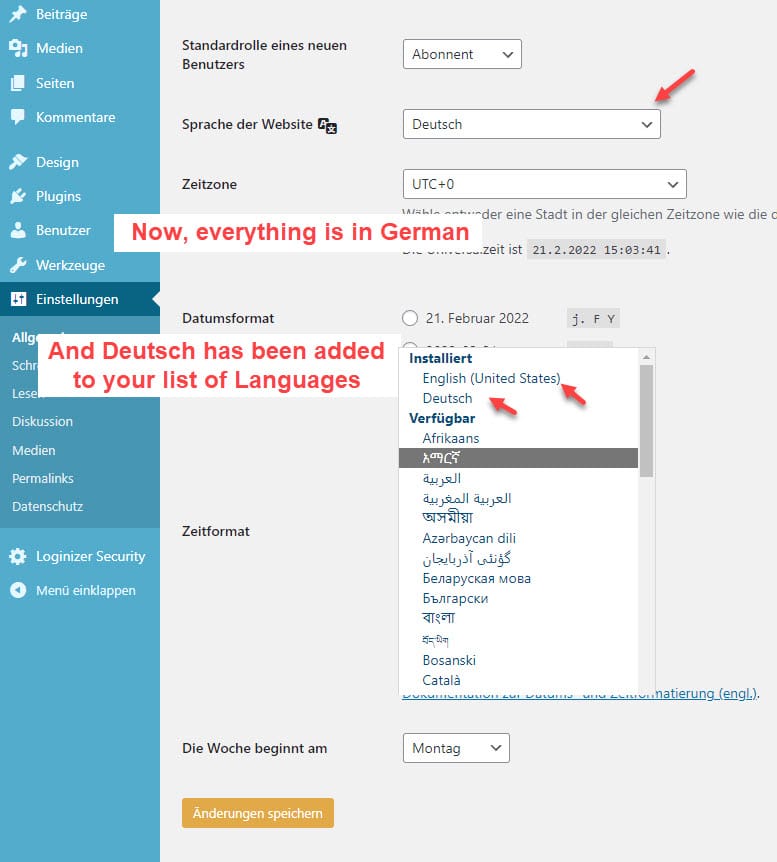 You can add as many languages as you like, and when you are finished, change back to your native language and save.
After doing this, you may need to go into your updates screen and update the translations feature.
For more details on the language switcher, you can check out the write-up here on WordPress.org.
While there are many more little things that are covered in the Field guide (I covered this in a previous post), the last item I will touch on in this post is the new photo gallery at wordpress.org
Like the patterns directory at wordpress.org was prior to WordPress version 5.9, the photo gallery is available now but only by the direct link – https://wordpress.org/photos.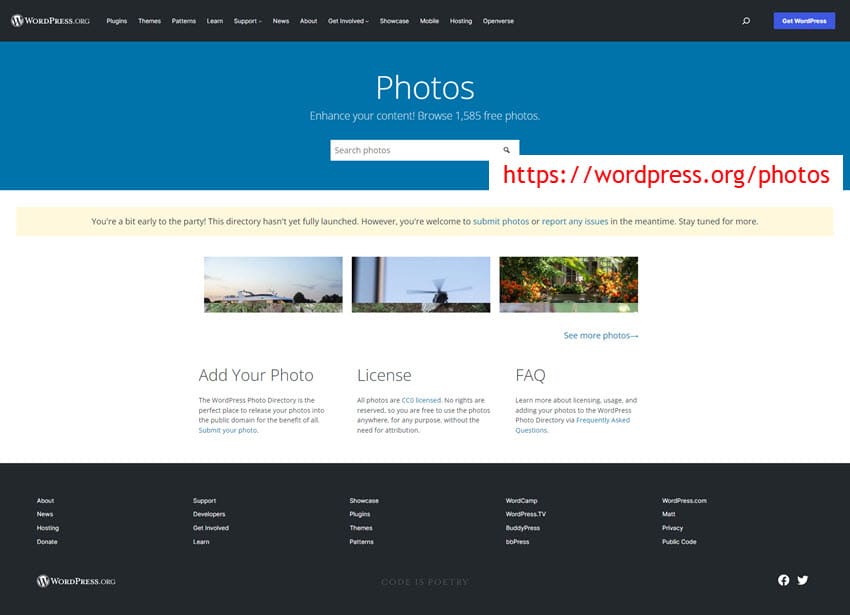 You can see the banner telling you that you are a bit early to the party. At the bottom of this page are:
The license terms.
An FAQ (frequently asked questions) section.
The steps involved for submitting your own photos if you want to do so.
Basically, these are free images you can use on your site, and the list is constantly growing.
There you have it. Along with the previous seven posts, this post will cover most of the big stuff within the WordPress version 5.9 release. What are your thoughts on the direction WordPress is going with its Full Site Editing and all things blocks?
Let your voice be heard, and post your comments below.