What's New In WordPress 5.9 Here Is An Introduction
How about an overview of what's new in WordPress version 5.9
What's New In WordPress 5.9 covers a quick overview of this major WordPress release. Items like Full Site Editing and the new block-based themes. Version 5.9 includes what is called Full Site Editing or FSE for short. The much-awaited changes to the editor's List View feature, the Navigation block, the new Patterns library at wordpress.org, the new block themes, and some of the new stuff in the block editor.
Here is a video version (pretty much) of this post:
A Word Of Warning About Updating
I highly suggest holding off on updating to a major WordPress release like 5.9 for at least a few days. Minor releases, like 5.9.1, or 5.9.2, for example, should be updated immediately. Because those are usually security-related or patching some of the bugs found in earlier versions.
Regardless of how long you wait before updating, ALWAYS do a FULL BACKUP BEFORE you do that update.
Some of these additions and changes you get with 5.9 will only show up on your site if you are using one of the block-based or Full Site Editing themes. Otherwise, you still get some pretty cool upgrades.
The What's New Page Covers The Big Stuff
Okay, once we eventually have 5.9 installed, check out the What's New page, where it gives you kind of an overview of the significant changes in 5.9.
And if for some reason you install and get lost, and you can't find this page anymore, go to your domain name slash WP dash admin slash about dot PHP (https://domain.com/wp-admin/about.php), that'll bring you right back here.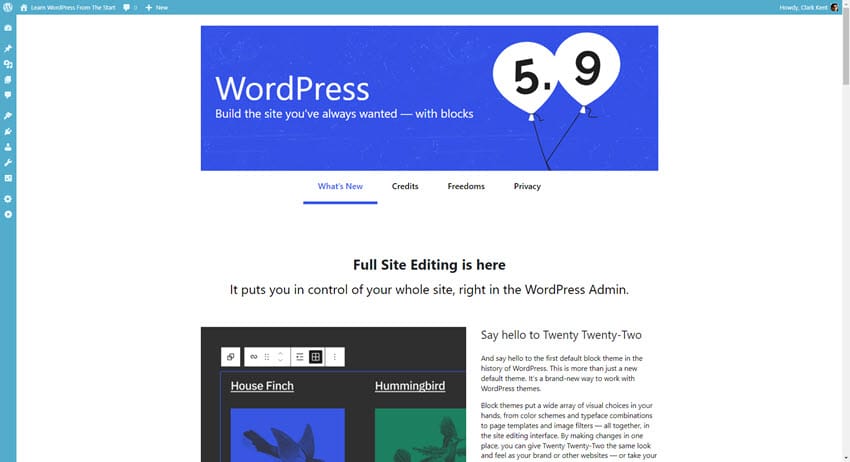 And while Yeah, you also have the Credits and the Freedoms and the Privacy stuff, I'm only going to be concentrating on the What's New section in this What's New In WordPress 5.9 mini-series.
Is It Safe To Use Block-Based Themes On My Existing Site
These FSE, aka Block-Based themes, are a lot of fun and will really open up a ton of possibilities for your site's designs. Since many of these FSE or Full Site Editing features are still in beta mode, you should not use these block-based themes on an existing site (ask me how I know- thank goodness for my backup). But if you are building out a new site, then go for it.
So getting back to our WordPress Version 5.9 installation About page, let us scroll down and see the goodies we get when you are using a block-based theme.
I will begin with the new Twenty-Twenty-Two theme, which is a block base theme. We will cover that in an upcoming post when I go over block-based themes. But if you are using a block-based theme, Twenty-Twenty-Two, or any of the other ones, you have additional styling. And we're not going to go into detail on this right now, but I will cover that in a different post when we cover Full Site Editing.
This is kind of a customizer of sorts on steroids.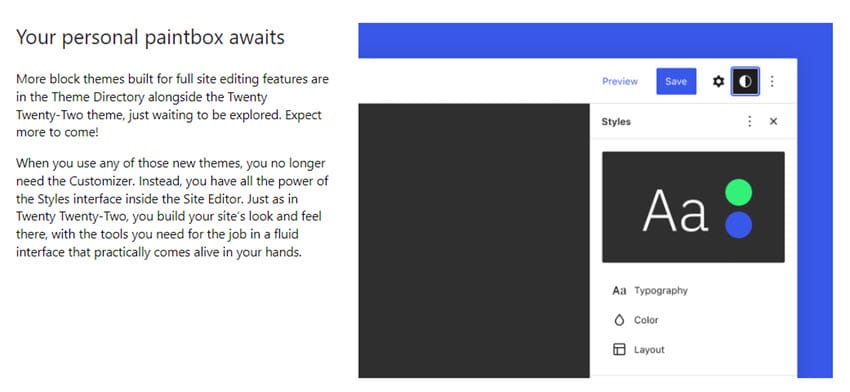 Speaking of the Customizer, you don't have the Customizer anymore with the block-based themes.
With the block-based theme active, you will see there is no Customizer. If, however, you have WP version 5.9 installed with a non-block-based theme active – like the default twenty-twenty one theme, there is a customizer.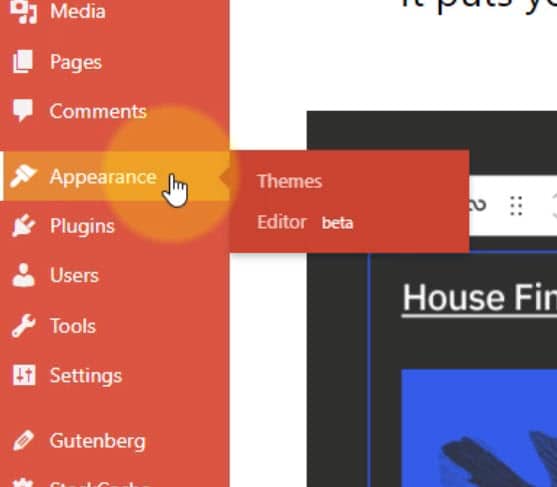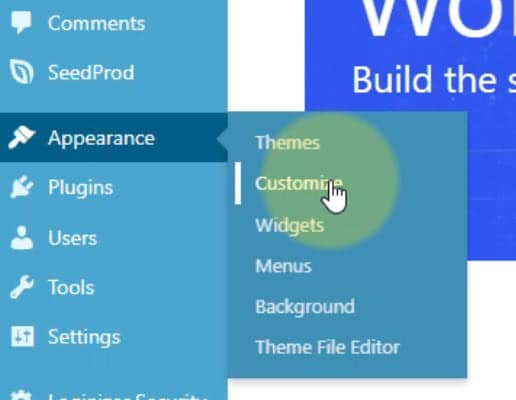 You may have also noticed a few other items like missing widgets & menus, with a block-based theme, all that is done inside the editor now.
I'm kind of getting off track here. I don't want to go into the details on the themes since I cover that in more detail in a separate post on block-based themes. But just to point out, though, there are some huge differences between the block-based themes and WordPress 5.9, and the normal themes, or what I'm going to call the normal themes, and WordPress version 5.9.
So we have the styles, no Customizer, Menu, or Widget options. Again, the Navigation block is something that you're only going to get or have access to if you're using one of the block-based themes. Some of these items will be covered in greater detail in upcoming posts within this What's New in WordPress 5.9 mini-series, so check those out.
Using WP version 5.9 without a block-based theme
One of the cool things you get when you update to WordPress version 5.9 with or without a block-based theme active is better block controls.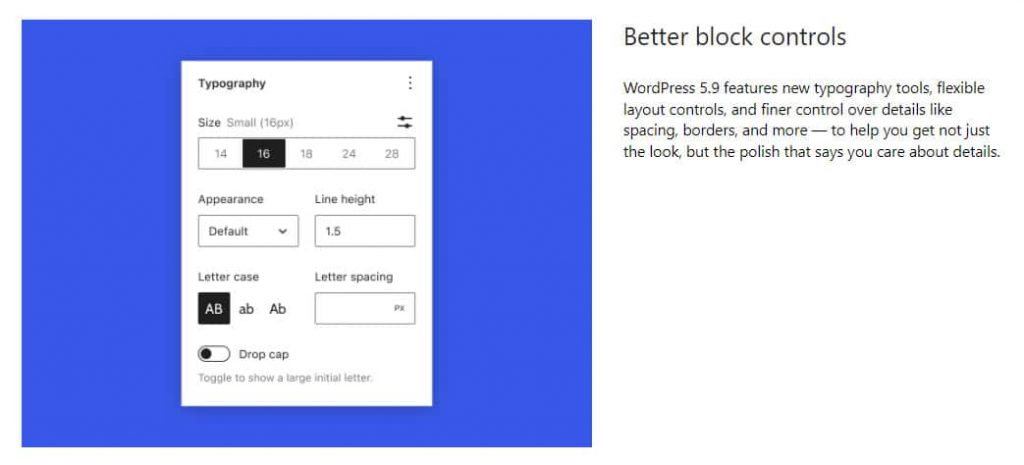 I will just kind of touch on that real quick.
With one of the posts that I have opened up, this is version 5.9 with twenty-twenty one theme. You have this plus sign (2) here next to typography in your block settings sidebar (1) when we go into a paragraph block. And if we click on this, you have several options that you can toggle on or off (3).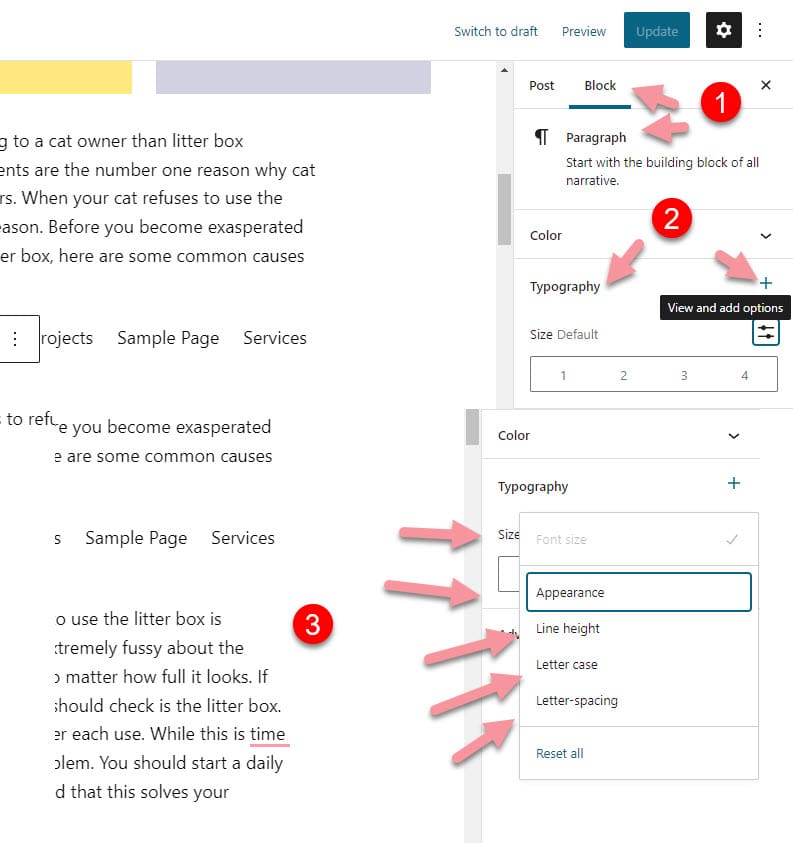 So they will then be displayed in the right sidebar. For example, if we click on Appearance, we now have these options. This allows us to adjust the font Appearance from the plain default look to one of the many font styles available with that font.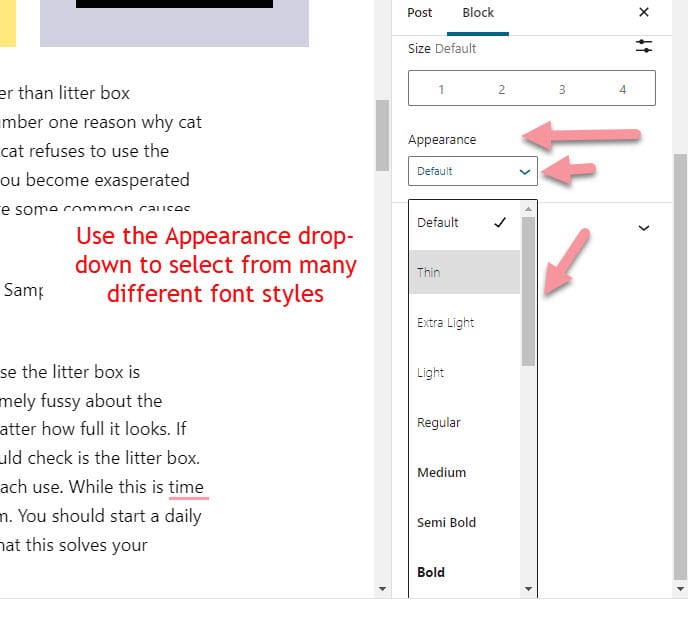 So play around with the different typography options available so you can get more familiar with them.
Okay, getting back to our WordPress Version 5.9 installation About page, let us scroll down to the next section, which talks about the power of patterns.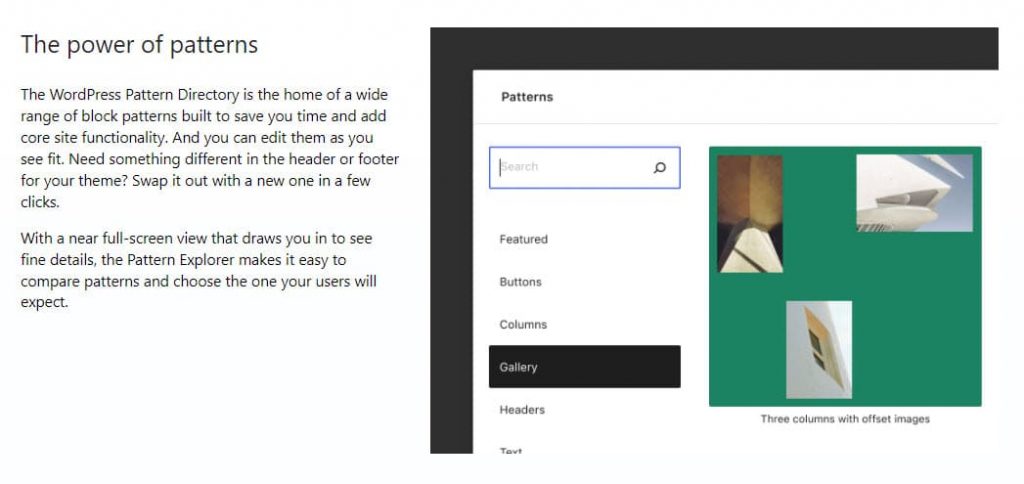 We have a lot more Patterns to choose from.
There is even have a pattern directory at WordPress.org. We can find this at https://wordpress.org/patterns. Or just click the patterns link in the new WordPress.org menu bar.
When you are in the editor window of a post or page and click on the block inserter, go ahead and click on Patterns. Oh, and this works with normal and block-based themes.
But when you open up Patterns, you have got many more Pattern designs to choose from. Your selection of Patterns is theme-specific too.
But if you click on explore, you get this pop-up modal with all those fantastic Pattern designs. And they're categorized here on the left.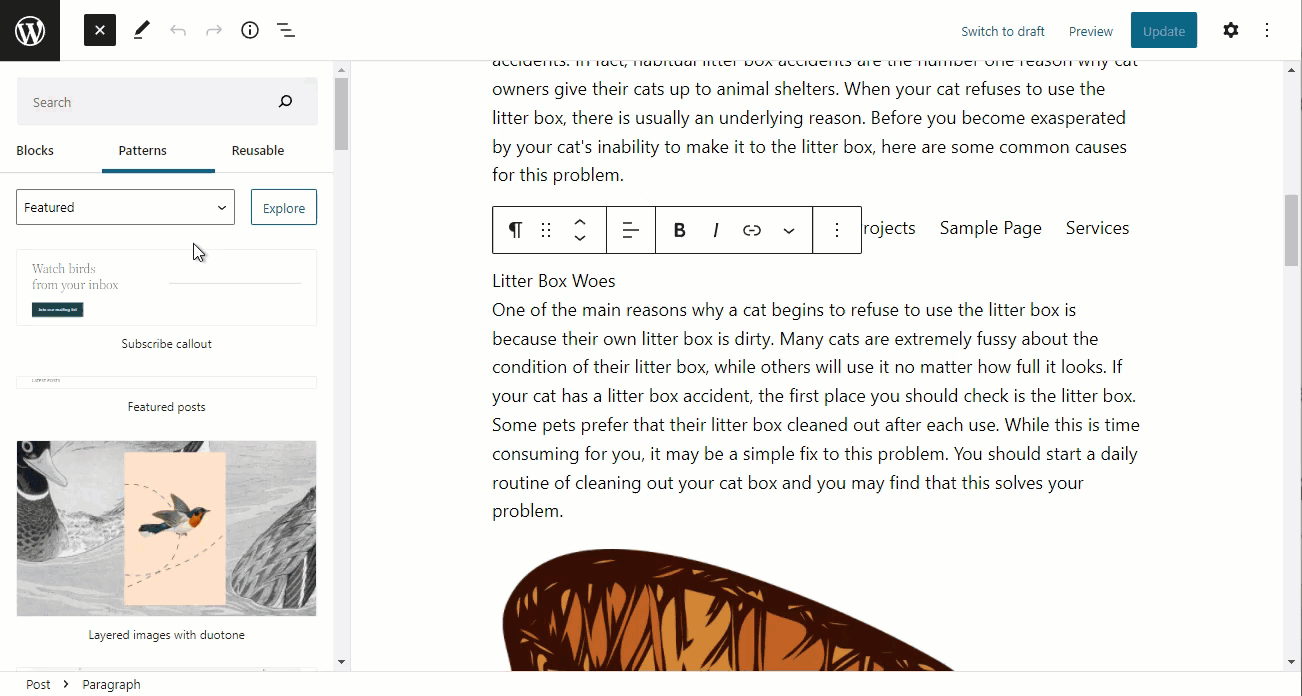 So that are the Patterns you will now see in WordPress version 5.9
Let us head back to our WordPress Version 5.9 installation About page and scroll down to the List View. I think this will be my favorite new feature with WP version 5.9. You can drag and drop your blocks within your editors' List View tool, which is a major plus in my book.
I will go over this in greater detail in a separate List View post in this What's New In WordPress 5.9 mini-series [insert link here for the list view post].
Rounding things off, we have a better gallery block, and the link to the field guide can be found at the bottom of the WP Version 5.9 about page.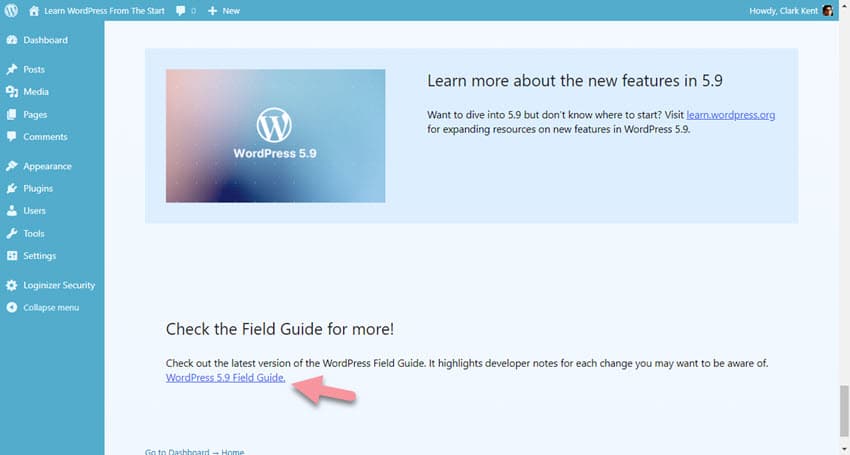 That field guide covers a lot of the stuff that I'm just going to be brushing over in these upcoming What's New In WordPress 5.9 mini-series posts. So definitely check that out.
That is the broad overview of what's new in WordPress version 5.9. As I've mentioned a couple of times in this article, I will cover some of these items in their own posts, so be sure to check them out when you get a chance.