What's New In WordPress 5.9 Full Site Editing
What's New In WordPress 5.9 Full Site Editing is just the beginning of what is to come for the WordPress ecosystem.
What new stuff will I find in Full Site Editing
Among many other cool features, what's new in version 5.9 of the WordPress blogging platform is the ability to fully edit your site from the WordPress block editor including header and footer.
Previous versions of WordPress have included a limited "Full Site Editing" feature, enabling you to view and edit a single post or page of your site.
In version 5.9, the features are much more robust, enabling you to edit posts and pages and the themes headers and footers. Before WordPress version 5.9, this required manually coding things yourself or using page builders that many times would take away from the performance of your site.
Here is a video version (pretty much) of this post:
Do you need Block-Based Themes to use Full Site Editing?
To begin with, Full Site Editing requires a block-based theme.
At the time of my writing this post, there were about 40 block-based themes in the WordPress theme directory. That is in comparison to the 1000s of non-block-based themes on the market. Of course, that will change the more this Full Site Editing thing catches on.
Let us look at the FSC or Full Site Editing features in the brand new default twenty-twenty-two theme that comes packaged with WordPress 5.9.
After you have logged into the admin area of your WordPress site, click on the Appearance tab.
I covered this in a different post on What's New In WordPress version 5.9, an Introduction. With the block-based theme, active under Appearance, you're not going to see the normal or what I consider the standard tabs available. Like the Customizer, Menus, and Widgets tabs. Only Editor, and that's where you're going to be able to customize and add your menus and widgets and such.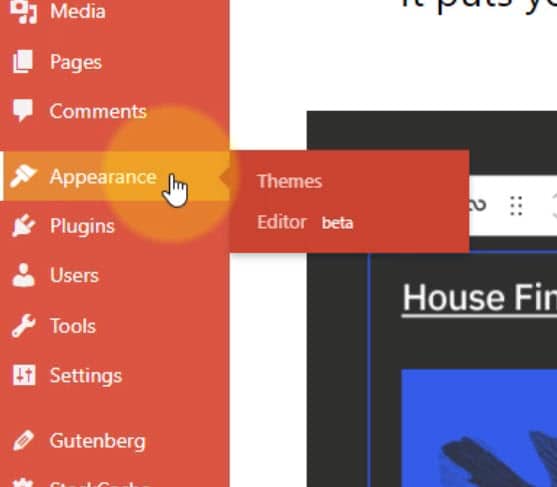 Let us have a look around the new site editor.
After we click on the editor tab in the Appearance section, that takes us to the editor window. We can toggle back and forth on the editor navigation by clicking on the WordPress icon in the top left corner.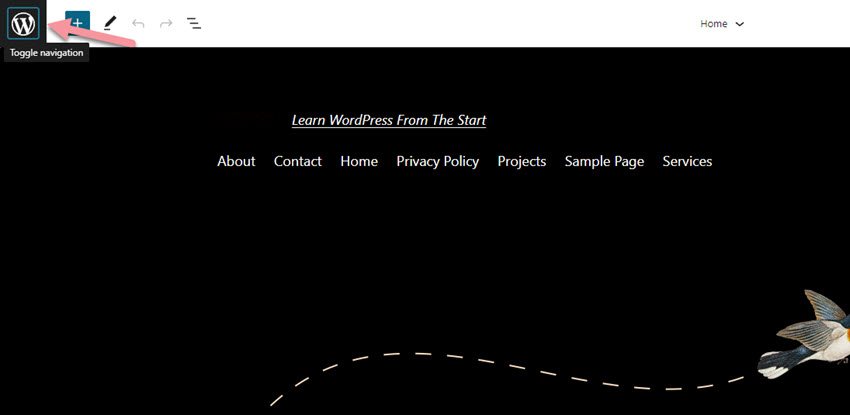 Once we are in the Site Editor section, you will have three options. We will find this in most block-based themes. Site, and that is where we are by default when we enter the Site Editor. Templates are theme-specific, meaning some themes will have these and more or less.
Likewise, with Template Parts, most block-based themes will have these more or less.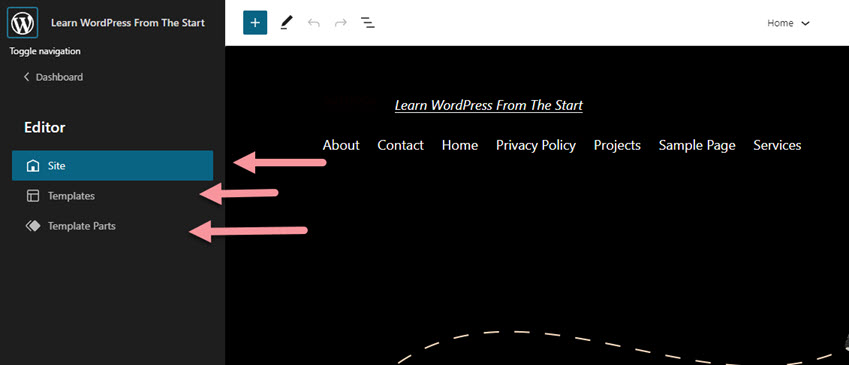 Within the Template Parts, you will see that basically, there are two parts – the header and footer. The twenty-twenty-two default theme has variations of the header parts, but still just the header and footer. Other block-based themes may just have a header and footer, or like twenty-twenty-two, they may have several variations.
Just a reminder that non-block-based themes have lots of version 5.9 features also.
Although these non-block-based themes will lack the ability to edit the header and footer using the Gutenberg editor, they will still have other features that version 5.9 provides. Features like block editor improvements, the List View tool, and other items I'll cover in different posts. Also, when you go under Appearance, in the left admin sidebar, you will still have the Customize, Widgets, and Menu tabs with 5.9 installed.
I just want to remind you of that.
Okay, let us get back to looking at the Full Site Editor and the new top toolbar that comes with it.
Starting at the top left and working our way across, we have the block inserter (1). We've got tools (2), the Undo and Redo buttons (3), and my new favorite tool, the List View (4) feature.
You click on the List View tool, which allows us to navigate throughout our editor window. We can left-click hold and drag the various blocks within our editor window as well. There are three vertical dots (kabob menu) on the right end of each block in our List View tool, and we have the same options available as we do in the editor window for that block.
But I will cover the List View Tool in greater detail in its own post. So we'll just have to check that out whenever the time comes. 
And you can click on the List View icon again to collapse it.

In the middle of our top toolbar (5), we have the name of the template that is currently open in the editor window. We hit the dropdown to display the name and different parts we can edit if we want to. Also, we can rename that template here as well. We can even create our own custom templates, but that is the makings of a different class later on.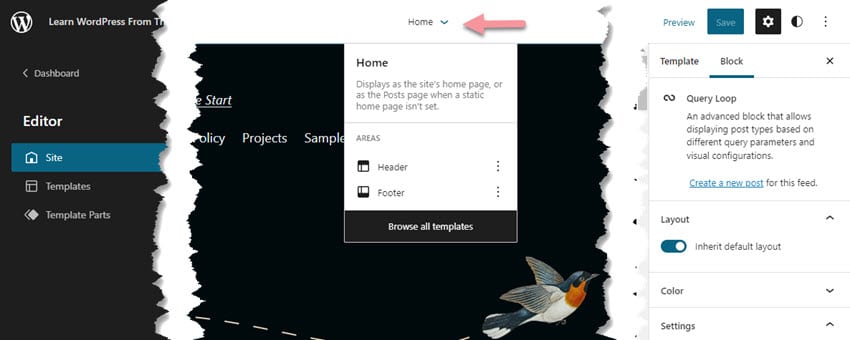 When you click on browse all templates, that will take you back to the templates page that displays all the templates again. To demonstrate that if we go to the 404 template, the name of the 404 template is shown in the top center of our toolbar.
While we are here in this dropdown, if we select one of these template areas like the footer, then the template name in our top toolbar will display 404 – Footer. You will see the footer section is selected and ready for your edits.
Next, we will come on across our toolbar, and we have the Preview (6), the Save (7), and the gear icon (8). This gear-looking icon displays the block settings for the template. And version 5.9 brings some additional changes when it comes to the various blocks. I touched on those in a previous post when I was going over the WordPress version 5.9 Introduction. So if you need to review that post, go ahead do that. 
Something that's new just to the block-based themes, and that's the styles (9). Again, I briefly mentioned this in the WP 5.9 Introduction post.

These new styles features allow you to make changes to your fonts, colors, and other typography elements. These changes can be on everything, or just specific templates or template parts, or even just blocks. Plus, these changes can be throughout your entire site.
The last item in our top toolbar tour is these three vertical dots (kabob menu). This is the More Tools and Options section. But there are a couple of changes here or additions if you will.
You can now export your templates and or template parts.
And I'm pretty sure that in the very near future, we're gonna have a lot of developers creating custom templates and template parts and selling them. Along with the keyboard shortcuts and welcome Guide in this more tools and options section, we also have a handy Help section.
UPDATE: This Handy Help guide has been removed but then put back again. So when you check it out, if yours is missing, here is the direct URL for your reference and viewing pleasure.
https://wordpress.org/support/article/site-editor/
This 'Handy Help Guide' will answer many if not all the questions I've not covered in this or the other classes dealing with the new Full Site Editing within WordPress version 5.9