What's New In WordPress 5.9 Block Themes
What's New In WordPress 5.9 Block Theme
What's New In WordPress 5.9 Block Theme details what block-based themes are, shows how to locate more than the default theme and what hybrid themes are.
Here is a video version (pretty much) of this post:
What are block-based themes, and do I have to use them after updating to WordPress version 5.9?
The short answer is no. In a block theme, all the pages, posts, sidebars, headers, and footers of the site can be edited via the block editor along with the post content of the different post types. You do not have to use block-based themes after updating to version 5.9.
Look at the WordPress version 5.9 update as a two-flavor update. One of those flavors is the block-based theme. The other flavor is everything else within the update, like more styling options, upgrades to existing blocks, and more.
While both 'flavors' work great together (I'm looking at you chocolate and peanut butter), you do not have to use them both. That is my long-winded way of saying, no, you do not have to use a block-based theme when you update to WordPress version 5.9.
It seems like a lifetime ago, but way back in 2018, when the block editor first came to WordPress, it was like you were being forced to use the block editor if you wanted to use WordPress. This was a big deal for the millions of WordPress site owners.
Luckily there was a workaround called the Classic Editor plugin. As the name implies, this plugin allows you to continue using the old Editor once installed and active.
That still exists today because many WordPress users still refuse to switch to the block editor. The continued support and updates for the Classic Editor plugin will not be around forever. At least, that is what was told to everyone when the block editor came to life. The end of the Classic Editor plugin was to have been in December 2021 but has since been pushed back a year to December 2022.
I am rambling on about the block and classic editors because the block-based theme and traditional themes should be looked at the same way as the Block Editor vs. the Classic Editor.
The traditional themes will continue to work perfectly for quite a while. Still, eventually, the block-based themes will be the only themes that are being updated and supported.
How to quickly locate more block-based themes.
I have covered block-based themes quite a bit already, so the rest of this post will go over other block-based theme items I have not yet talked about.
The first thing is locating more block-based themes within the WordPress theme directory without spending hours combing through thousands of themes.
This method can be used both at WordPress.org and in your own WordPress sites' appearance section under add new themes.
Go into Appearance from within the admin area of our site, then click on themes. Click on Add New (1), just above your active themes thumbnail in the top-left area. Then go to Feature Filter (2). Under the column titled Features, go down and check the box next to Full Site Editing (3). The items are in alphabetical order, if that helps. Then back up to the top-left and click on Apply Filters (4).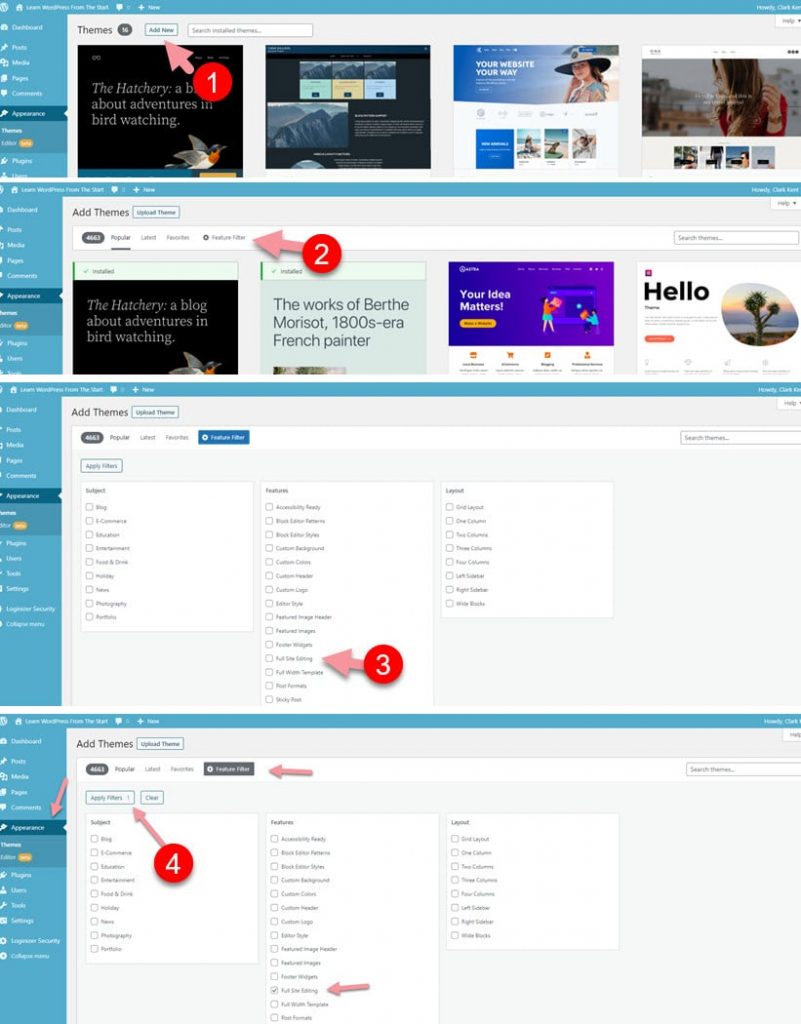 The other day, whenever I did this, there were 38 Full Site Editing themes in the directory. So by the time you're checking out this post, there might be even more. Remember, these are just the block-based themes within the wordpress.org theme directory. There might be even more Full Site Editing themes outside of the theme directory in wordpress.org.
Let us talk about the hybrid block-based themes.
I previously said that the Customizer, Menus, and Widgets have been replaced with the Site editor with block-based themes.
While this is true, pretty much, there are some block-based themes that, by themselves or in combination with plugins, still bring some of these items back to our admin sidebar as a kind of a hybrid block-based theme.
One such theme is called Emulsion. It's a block-based theme. Let us install it and activate it. Rather than scrolling through all the themes we have already filtered out, I'll just use our search box on our Add New themes page to locate the Emulsion theme.
By the way, I just want to be clear, this is not a recommendation nor endorsement for this theme. This is just me demonstrating that there are themes out there that are block-based, that will bring back some of those items the themes like the default twenty-twenty-two theme removed.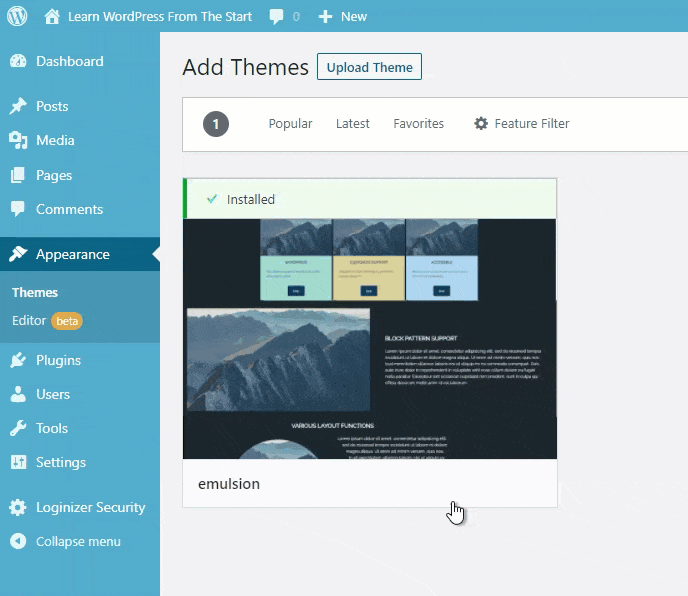 Once you install and activate the emulsion theme, you will see several of those missing items show up. Items like the Widgets and Menus. However, like other block-based themes, you are taken to the site editor when you click on either Editor in the admin sidebar or the Customize button located in the active theme thumbnail.
Non-block-based themes will take you to the customizer window when you click on the customize button in the thumbnail of the active theme.
So if you happen to have one of these themes active on your WordPress site, and you're still seeing the widgets and menus, now you know why.
And lastly, I want to mention that with WordPress version 5.9. there have been many more theme-related blocks added to our block directory, and the navigation block was just one of them.
Once you open a post or page in the editor window, click on the block inserter. You scroll down the list of blocks about halfway until you see the group titled THEME.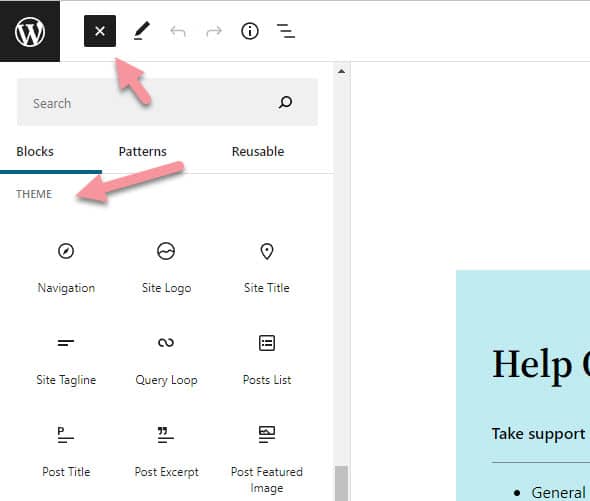 Some themes and or plugins may add to this default list of about 20 theme blocks, but this is where you will find them all.
By the way, these theme blocks can be used anywhere on your site that any other block can be used.
It's just that some of these are best suited for use on a block-based theme like the post content block, post author block, and post date block. These are all blocks that bring in dynamic properties wherever you add them. So definitely worth playing around with these.
The big takeaway here should be that you are NOT required to use the block-based theme when updating WordPress version 5.9. Also, variations of block-based themes include or remove theme items like the Customizer Widgets and Menus like the hybrid block-based themes.